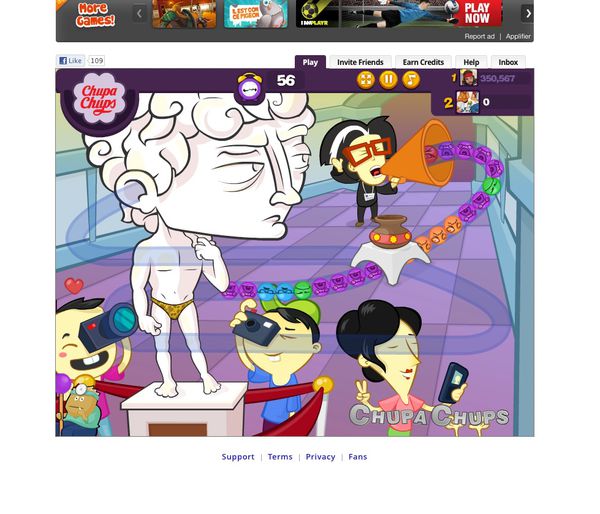 Startup philosophy and intrepreneurship go against the very nature of what an ad agency is all about (see more).  That's why what Bartle Bogle Hegarty (BBH) and Chupa Chups Lollipops worked on together is all the more astounding.
Chupa Chups is not the biggest client and they certainly don't have the biggest budget to work with, but BBH certainly found a way to game the marketing system and get the most bang for their buck.
The Chupa Chups brand, much like the lollipops themselves, is fun, irreverent and doesn't take itself too seriously.
According to Corrado Bianchi, international marketing director of Chupa Chups' Italian parent company, Perfetti Van Melle, "the brand philosophy of Chupa Chups is all about giving youth a respite from the seriousness of everyday life, similar to the role gaming plays in our target audience's life" (via AdAge).
As a result of this key insight, BBH made a Facebook game for the Chupa Chups targeted demographic to play during their down time.  More surprisingly, an ad agency actually made a good branded Facebook game.
In Chupa Chucker, a game reminiscent of the PC and mobile game Zuma, players shoot "brain spam" with lollipops, trying to get as many points as they can before time runs out.
There's even a bit of a backstory: R4V3N, the Chupa Chucker World Champion who plays the game with his mouth (on a Chupa Chups lollipop joystick, of course), needs to be beat and you're gonna be the one to do it.
The R4V3N is the antithesis of the Chupa Chups brand: he's a hardcore gamer nerd (ironically, playing a casual social game).  If you've seen King of Kong: A Fistful of Quarters and are thinking R4V3N reminds you an awful lot of Billy Mitchell, it's probably not a coincidence.
When you go to the Facebook Chupa Chucker game, it plays like other social games.  You have to beat levels to advance your powers and find a way to beat R4V3N's high score (may the true social gamer prevail!).  If you do you receive the high score, you get the actual Chupa Chucker World Cup trophy.
It's actually pretty addictive and better than some other branded games I've seen on the market.
They even have R4v3N talking smack to Facebook players who are closing in on his high score.
The brilliance of this entire campaign isn't with the actual game, or the intro video, or the engagement on the Facebook page with "electronic athlete" R4V3N.
The brilliance of this campaign is through BBH's experimentation with a new business model. While most ad agencies would only spend money on creating media like a social game, BBH and Chupa Chups are actually making money.
By implementing a game with Facebook credits and applying a freemium model to Chupa Chucker, BBH will start earning back their initial investments from Day One.
Through a joint-partnership with Perfetti Van Melle (owners of Chupa Chups), BBH created Chuck Studios, a unique game publisher built to produce high quality games that provide mutual benefit for all interested parties.
Instead of creating crappy digital media products in-house (something many agencies are guilty of), Chuck Studios partners with the best game studios to create successful Facebook,  iOS, Android, and HTML5 titles (Chupa Chucker is the first to launch). The studio offers studios the Chupa Chups IP, a huge online fanbase, and access to funding and global marketing support, magnified by BBH.
After the initial game's revenue goes to Facebook (or the appropriate platform), Chuck Studios and the developers split the rest.
Although, this risky advertising model has never been attempted before, I think it's the greatest thing to happen to the industry in a long time.  By partnering with a game studio, BBH can produce games for much cheaper and at a much higher quality.
More importantly, they can actually make money:
If they produce five games, and even one comes close to success, all parties involved walk a way with some decent pocket change in hand and at the worst, break even.
If they end up creating something of Angry Birds-sized proportion, that's some serious moolah for all parties involved.
If the games suck, well, they would have gotten worse results building a game in-house.
So far, with only a soft launch, Chupa Chucker has over 2,000 monthly users on Facebook — it may not end up being the saving grace BBH hoped it would be, but it's certainly no dud either.
Chupa Chucker is a fun game and R4V3n is a decently funny character to promote a lollipop.  However, the real creative, the real innovation, comes from the new business model BBH has created — it's ingenious and totally groundbreaking.
Even if the client and agency split-up, it gives BBH the newfound ability to incubate startup ventures. They can focus on their core competencies (i.e. creating interesting ideas for engaging media) and outsource their non-skills (i.e. development) to create something truly unique, scalable, and profit friendly.
I wouldn't be surprised if we saw another agency copy this model in the imminent future.
Comments
comments